The Stone House Group is partnering with Lehigh University and Trust to develop Lehigh's Climate Action Strategy. Our team will conduct an ASHRAE Level 1.5 Energy Audit of thirty-four (34) campus facilities and provide technical consulting services through the Climate Action Planning process. Trust will engage with the campus community to support Plan development. The Climate Action Plan will outline strategies and tactics that provide potential paths for the University to achieve net carbon neutrality. Carbon reduction targets will be developed in conjunction with campus working and advisory groups. The Stone House Group's staff will work with students in Lehigh's Industrial Assessment Center to complete campus energy audits, providing an opportunity to make the campus a living laboratory.
The Stone House Group can make your facilities effectively support your mission. We offer comprehensive, yet individualized facilities planning, management, and operation consulting. Our firm is named after the simple, sturdy structure in which we held our first company meeting; it represents the quality and integrity of the services we provide.
The Stone House Group offers a unique array of expertise and experience that provides clients with a variety of interrelated services that focus on the distinctive needs of not-for-profit organizations. The company employs about 20 associates and is based in Bethlehem, Pennsylvania with an additional office in Washington, DC. Since our founding in 1999, The Stone House Group has served more than 300 clients.

What is an ASHRAE Level 1.5 Energy Audit?
The process for an "ASHRAE Level 1.5" energy audit is a hybrid of ASHRAE Level 1 and 2 audits. An ASHRAE Level 1 Energy Audit provides a high-level overview of how a facility consumes energy, while an ASHRAE Level 2 Energy Audit dives further in-depth to analyze opportunities for more efficient operations or capital projects with attractive payback. The diagram below illustrates the balance between simple, low-cost energy assessments (Level 1) and more complex, high-cost energy assessments (Levels 2 and 3). Our staff includes Professional Engineer and Certified Energy Managers with the credentials and capabilities of conducting Level 1, 2, or 3 energy audits. However, in our experience, we found that many of our clients choose an assessment roughly on the red trendline.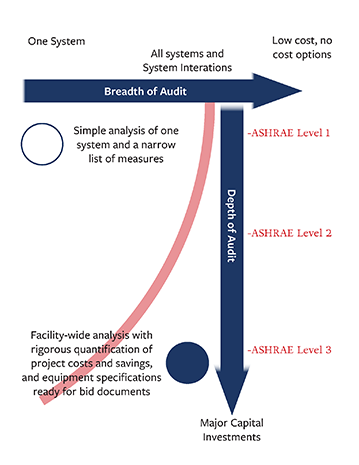 We have also found that many clients prefer us to follow the scope of work for an ASHRAE Level 2 Energy Audit without completing all of the recommended documentation. Many clients feel that the documents and forms required for an ASHRAE Level 2 Energy Audit add significant cost to the study while adding very little value toward creating an actionable plan. With an ASHRAE Level 1.5 Energy Audit, our team identifies a comprehensive list of potential energy efficiency and energy conservation projects while streamlining reporting efforts to focus on identifying high-return energy projects throughout campus. In our Energy Capital Investment Plan, a final deliverable of ASHRAE Level 1.5 Energy Audits, have the ability to filter projects that facilitate review with our clients. Our goal is always to work with our clients to identify a group of high return energy projects that can be implemented in the near future.